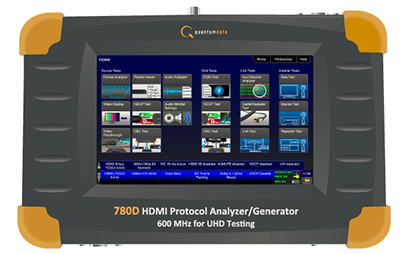 New 780D HDMI Test Instrument supports HDMI 600MHz and HDCP 2.2 testing
The Quantum Data 780D HDMI Protocol Analyzer / Generator is a handheld digital video generator and analyzer that enables you to run tests on various digital video devices and network distribution devices on site or in the R&D lab. You can now test HDMI up to 600MHz with HDCP 2.2 along with HDBaseT sources and displays all in the same test instrument.
Imagine this. You're out in the field. You've just been handed a variety of signals, in different formats, and you're expected to input them, switch, and dissolve them live; convert them to a standard format for distribution; and now the producer wants live streaming AND to take in an MPEG encoded signal coming from another location. How many different processors are you going to need? How about one … the new BrightEye NXT 450 Compact Router with professional MPEG contribution Encoder/Decoder!