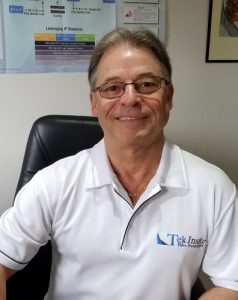 Responsive … Reliable … Dependable
TekInsite Video Technologies is a company specialising in supply and distribution of premium equipment and technology for video and television broadcast industries. The company was founded by industry veteran, Domenic Pupo, and has now been operating for four years supporting our key suppliers and maintaining the excellent customer and supplier relationships that have been built over many years.
With around 40 years experience with companies that include Rank Industries, Tektronix, Grass Valley, Gencom Technology and TekMark Australia, Dom brings a wealth of knowledge and expertise to the portfolio of products and solutions supplied by TekInsite, including:
Tektronix Video Test, Measurement & Monitoring Solutions including IP Media Analysers, 4K/HDR/WCG Test & Monitoring Solutions, Hybrid PTP & SDI SPG Systems, Waveform Monitors and Rasterisers, File-Based QC Systems, MPEG Test Instruments, and Network Delivery Monitoring Systems;
Pixel Power Playout & Automation Workflow Solutions including StreamMaster Media Processing and Playout Systems, Gallium Automation and Workflow Orchestration Systems, File-Based Graphics Rendering Systems, Channel-in-a-box Systems, News Graphics Solutions, and more;
Plura Broadcast, a leading global manufacturer of a wide range of high-performance multi-function HD and SD LCD video monitors (up to 70″) and equipment engineered specially for digital broadcast and professional video production;
Ensemble Designs … Purveyors of Fine Video Gear Loved by Engineers Worldwide, a leading manufacturer of proven and reliable signal processing and infrastructure gear for broadcasters worldwide … a company that is focused on the bricks and mortar of a facility include pieces like up/down converters, audio embedders, video converters, protection switches and SPGs for SD, HD and 3Gb/s;
Quantum Data Test Systems for HDMI, DVI and MHL including Generators and Analysers; a company that invents test instruments that help manufacturers bring next-generation audio, video and control products to market – faster and without interoperability problems.
BON Electronics Wireless HD Transmission Systems, High-Bright Field and Studio Monitors, Converters and Routers
Z Technology RF Test Systems for Digital Television Broadcasting.
For more information relating to TekInsite Video Technologies and any of the above solutions, please contact Dom.