When it comes to branding and promotions, the mantra is simple—be consistent, be noticeable, get it right and do it again and again.
Gallium PROMOTE provides a range of options for fully automating the creation and delivery of dynamic branding and promos across one or more channels.
Gallium PROMOTE reads data from the traffic system and real-time schedule and then automatically populates graphics templates for slates, bugs, promos and lineups. Gallium PROMOTE is entirely under control of the schedule and accepts triggers from any major automation system for true hands-free operation. It supports automated nexts, menus, line-ups and automated promo versioning of video and audio.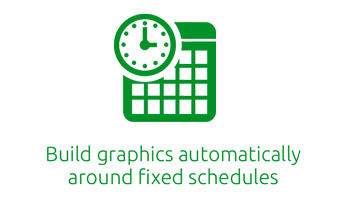 Gallium PROMOTE is available in versions to support any channel workflow. Easily support thematic channels with advance rendering of graphics sequences built automatically around fixed schedules. Gallium PROMOTE connects to master control automation and can deliver updated and reversioned graphics seconds before air-time. Gallium PROMOTE can also run channels entirely on its own following customized rules, contextual awareness of schedules, and by querying external data sources to populate junctions.
With Gallium PROMOTE, live versioning and cross channel promotion is effortless across any number of channels.
Gallium PROMOTE provides:
Rules based insertion of bugs, ratings, program pointers, and even complete promos.
Automated cross channel promotion
Automated in-program graphic overlay
Automated promo versioning
Automated credit squeeze
With Gallium PROMOTE you can:
Increase branding and promotion throughput at no extra cost
Achieve consistent brand presentation
Create complex cross channel promotion campaigns
Free edit suites time for more creative tasks